It is exciting to design things and work with space. It means looking for optimal shapes, materials, and technologies in relation to function.
Jiří Pelcl's studio is among the leading design studios in the Czech Republic. Many years of experience and previous projects of Jiří Pelcl and his team give clients the guarantee of good-quality and respected results. The Pelcl Studio works for clients in the Czech Republic as well as in a lot of other European countries. Further members of the studio are MgA. Ondřej Červený and external associates.
Selected clients: DuPont, ČSOB, Philip Morris, Czech Ministry of Foreign Affairs, Crystalex, Preciosa, Český porcelán, Techo, Moser, Polstrin, Master&Master, Bomma, Cotto, Umbra, Plastia, Konsepti, Skitsch, Young & Rubicam, Czech Academy of Sciences, Egoé, Senate of the Parliament of the Czech Republic, and private clients.
Selected products of glass and porcelain are on display in design stores in Museum of Decorative Art in Prague, Moravian Gallery in Brno, Deelive, Modernista, Art Design Project in Bratislava, MoMA New York, MoMA Kyoto, MAK Vienna.
Professor Architect Jiří Pelcl teaches at the Academy of Arts, Architecture and Design in Prague, where he was the chancellor in 2002–2005. Besides practical activities he deals with the theory of design, he publishes texts and as a guest he lectures at both domestic and foreign schools (Rietveld Academy Amsterdam, University of California Berkeley, RCA London, Yale University, ENSDI Paris, SCIARCH Los Angeles). He has created a lot of interiors of prestigious buildings (interiors for president Václav Havel at Prague Castle, Czech Embassies in Rome and Pretoria, Czech House in Malmö, etc.). In 2006 he won the National Design Award, the Form award in Germany, and in 2007 the Design Plus award in Germany and the Czech Grand Design award for the designer of the year.
His work is represented in major European and world design museums, such as the Museum of Modern Art in New York.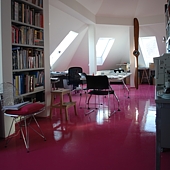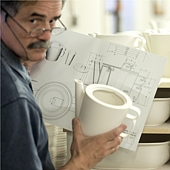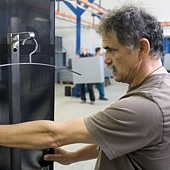 Solo exhibitions, selection
2021
– Jiří Pelcl – Design, Moravian Gallery, Brno
2020
– Jiří Pelcl, Sedmváz, Galerie Kuzebauch, Prague
2019
– ADAPTABLE, Galerie Nova, Bratislava
2017
– Von der Idee zum Design, Czech Centre Berlin
2016
– Forestglasscollection, Konsepti, Prague
2015
– Small and Big Objects, DOX, Prague
2012
– The Incredible Lightness of Being, University of Brighton Gallery, Brighton
2011
– Luxury Dwelling, Grosseti Gallery, Milan
– Luxury Dwelling, DOX galerie, Prague
2007
– Subjective x Objective: Jiří Pelcl Design, Looshaus, Vienna
2006
– Subjective x Objective: Jiří Pelcl Design, Museum of Decorative Arts, Prague
2002
– Jiri Pelcl, International Biennial Design Festival, Saint-Étienne
1999
– Pelcl Design - Cotto Nábytek, Moravian Gallery, Brno
– Strip Collection, Gallery Neotu, Paris
+21 more
Group exhibitions, selection
2018
– 1000 Vases, Espace Commines, Paris
2016
– This Is Today, Chamber Gallery, New York
2015
– Jiri Pelcl + Students = UMPRUM, Czech Centre Paris
2014
– Briliant by Design, Design Museum Gent, Gent
2011
– Postmodernism: Style & Subversion 1970–1990, Victoria & Albert Museum, London
2010
– Jiří Pelcl and students, Pecsi Galeria, Pecs
2009
– "Křehký", Design Vlandereen Gallery, Brussels
– Real World Laboratory, Museumquartier Wien, Vienna
– Czech Selection, Zona Tortona, Milan
– "Křehký", Carriage Works, Sydney
2008
– "Křehký", ICFF New York, 100 % DESIGN, Tokyo
– Seoul Design Olympiad, Seoul
2007
– 25 Jaar Binnen, Gallery Binnen Amsterdam
– Český design, Imperial Art Gallery, Beijing
2006
– Dreams and Reality: Czech Design 1990–2005, Design Vlandereen Gallery, Brussels
2005
– Czech 100 Design Icons, Berlin, Prague, Stockholm, Milan, Brighton
+ 243 more
Awards, selection
2020
– Czech Grand Design prize - Hall of Fame
– Medal of Josef Hlávka - for Merit in Education and Art
– Czech Chamber of Commerce Prize - Triennal of glass and costume jewellery
2019
– GOOD DESIGN
– Big SEE Wood Design Award
2017
– Red Dot Design Award
2011
– ELLE Deco International Design Award, EDIDA 2011
– The National Design Prize 2011 of the Slovak Design Center
2007
– World Best Design – Legacy for the Future Design Awards, Seoul
– Czech Grand Design prize 2006 Designer of the year
– Design Plus 2007 Ambiente International Trade Fair, Frankfurt
2006
– National Design Prize 2006 of the Design Centre of the Czech Republic
– Form 2006 prize, Tendence International Trade Fair, Frankfurt
2004
– Grand Prix of the Society of Czech Architects for the reconstruction of Gustav Mahler's house in Kaliště (together with Vladimír Krátký)
Collections
Museum of Modern Art in New York, The National Gallery in Prague, The Museum of Decorative Arts in Prague,The Moravian Gallery in Brno, Die Neue Sammlung in Műnchen, Museum fűr Gestaltung in Zurich, Swedish Glassmuseum Smalands, Museum of Applied Arts in Frankfurt, The Aldrich Collection in Brighton, The Olomouc Museum of Art, The Museum of North Bohemia in Liberec
Invited Lectures
2019 - Vilnius Academy of Arts, Kaunas; 2018 - Slovak Design Center, Bratislava, 2017 - Kunsthochschule Weissenssee, Berlin, 2016 - Pratt Institute, New York, School of Visual Arts, New York, 2014 - Kyoto University of Arts and Design, Kyoto, 2013 - Chang Gung University Taipei, 2011 - Pratt Institute, School of Art and Design, New York, University of Toyama, Faculty of Art and Design, Toyama, 2010 - Université du Quebeck a Montreal, Ecole du Design, Montreal, 2009 - University of Technology, Faculty of Design and Architecture, Sydney, 2008 - Vitra Design Workshop, Boisbuchet, 2006 - École nationale supérieure des arts décoratifs (Ensad), Paris, 2005 - Tsinghua University, Academy of Art & Design, Beijing, China Academy of Art, Hangzhou, 2004 - Bezalel Academy of Arts & Design, Jerusalem, 1990 - Rietveld Academy, Amsterdam, University of California, Berkley, Yale University, New Haven, Southern California Institute of Architecture, Los Angeles.
Magazines
Abitare, Architecture Interieure Crée, Architekt, Architektur & Wohnen, Atrium, Azimuts, Blok, Casa Idea, Casa Vogue, Design trend, De Architect, Die Vitrine, Design, Designum, Dolce Vita, Domus, Elle Deco Japan, Gap–Casa, Glass Rewiew, Intramuros, Interni, Kunstblad, Maison et Jardin, Metropolis, Modo, Möbel Interier Design, Möbel und Wohnraum, Techniques & Architecture, Wallpaper, Wohndesign, Wohnen, World Interior Design.